Searchandising Inspiration for Ecommerce from Leading Brands
October 06, 2022 • 7 minutes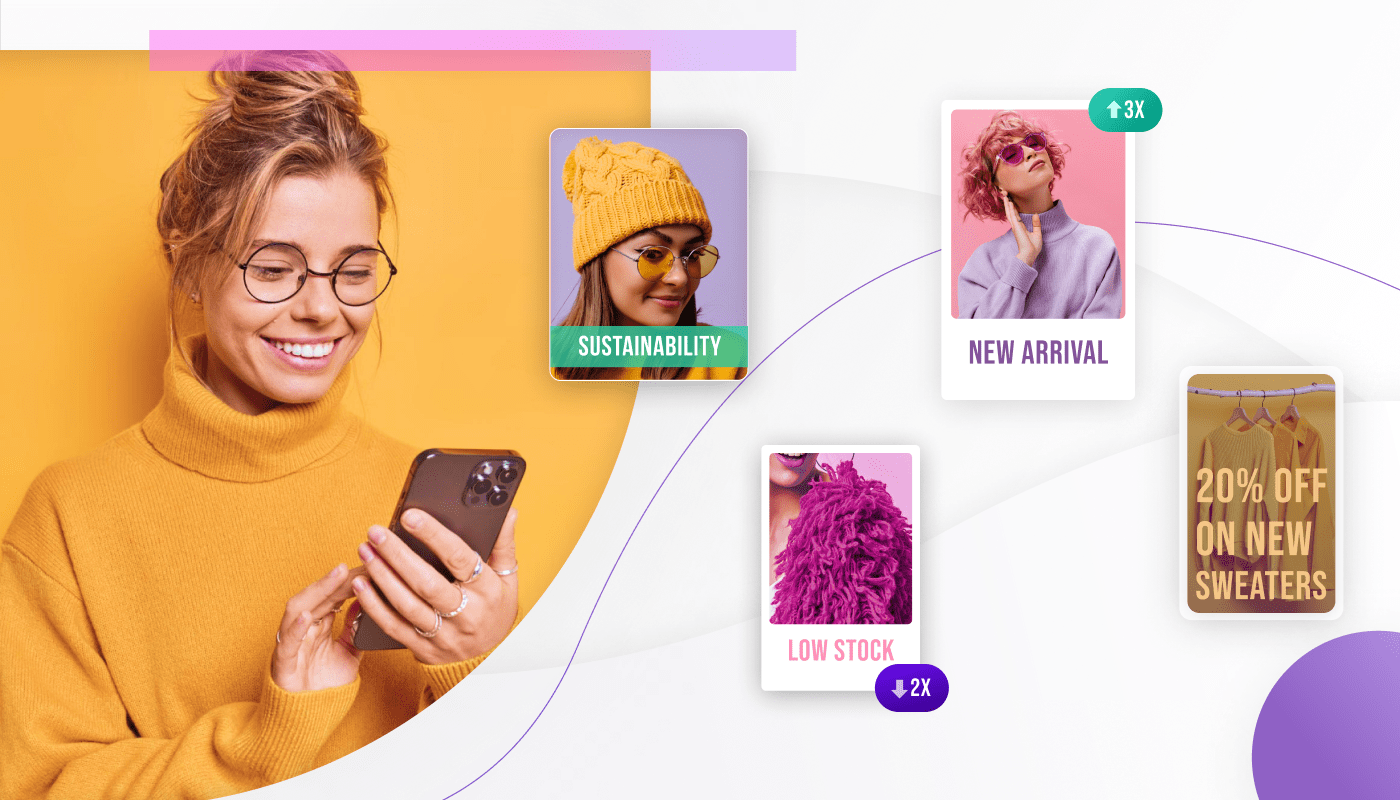 Searchandising or 'search merchandising' corresponds to the curation of products and value-adding features around the site search experience. Your search bar presents an unpassable opportunity for marketing and sales. Expanding product discovery can drastically increase your conversion rates and overall customer satisfaction. Retailers investing in enhanced search capabilities experience 50% higher conversion rates.
Searchandising is a powerful tool to support your business goals. But it also helps you pay closer attention to what customers need at any given moment. Best practices manage to uplift ROI and improve CX at the same time.
Here are 6 inspiring examples of searchandising from leading online retailers:
1. Dynamic Ranking.
The order of results for any site search can be automatically configured based on strategic parameters.
American furniture retailer West Elm uses dynamic ranking to prioritize bundles. Single-item searches such as 'chair', include combo results with dining tables and chair sets. This helps customers envision products as a complete set whilst also boosting cross-selling.
Many multi-brand retailers such as Target, sell competitor products alongside their own products. With such a portfolio, in-house brands typically have a higher rank in search results to boost sales. Product profitability is another key lever used in prioritization. Similarly, inventory levels can be used to rank one item over another. You could bring forward less popular high-inventory products, or bury popular products if they have low stock while waiting for renewal.
Dynamically boosting and/or burying products is a solid way to support your business goals.
Apart from overarching business goals, time and context-specific priorities are also used. For instance, if a TikTok video makes your face cream go viral, improving its on-site visibility is critical to capitalize on that fame. Another such influencer is location. If heavy rain is expected in a certain location, boosting 'raincoats' for any coat-related query will improve relevance. You can also use dynamic ranking to boost products with positive reviews and bury those with less flattering ones.
Countless scenarios can be implemented to support your goals. Think about what you would like to achieve with your product collection. Is it selling more of your higher-priced products or recently onboarded brands? And let dynamic ranking support you in implementing your business strategies.
2. Manual Curations.
Just like in physical stores, the most attractive locations can be used to display handpicked products.
Canadian fashion retailer Frank and Oak uses curation to promote their top picks. Bestsellers and new arrivals are pinned at the top of results pages for immediate engagement. Seasonality is a strong component of this with 'sweater' queries returning more and more ugly Christmas sweaters from November onward.
The more you understand your customers' style, the better your product collections will contribute to higher sales.
Mytheresa leverages shoppable looks to entice customers to look for products grouped around a specific "story". The high-end shop selects several clothing items and accessories each month to highlight what it considers to be a new fashion trend. It also builds curated categories such as 'Wedding Guest' and 'The New Office Look' to highlight new arrivals with a strong concept.
3. Embedded Listing.
Embedded listings refer to product and search suggestions that appear in the search box drop-down menu. Providing suggestions assists users in finding what they are looking for without having to type out complete queries or starting from scratch.
Product and search suggestions help customers narrow down results to the most relevant items.
Adidas uses embedded listings to showcase preselected products based on typed keywords. When users type items in the Adidas search box, category suggestions appear on the left, and product suggestions appear on the right. Suggestions change dynamically as users type their queries.
Similarly, user electronics retailer B&H completes queries highlighting related categories and products. B&H also includes resource suggestions referring customers to blog content and reviews relevant to their search. The suggested content is designed to nudge customers towards priority products as well as valuable information. For instance, when searching for 'tablet' two blog articles are recommended reviewing the Samsung Galaxy Tab A8, S8, and S8+ tablets.
4. Promotional Badges.
Promotional badges are visual or textual labels that draw attention to products. They are a good way to highlight features and help your customers easily digest search results.
Badges can include discount tags, new arrivals, last-chance products, limited-time offers, product views, and more.
Badges can be used in many ways across industries. For consumer goods, feature labels such as "vegan" and "sugar-free" are included whilst for fashion "sustainable" and "bestseller" tags are common. Multinational fashion retailer H&M uses textual 'conscious choice' badges to support its initiative of moving towards sustainable fashion.
If you are a multi-brand retailer, badges can also be used to distinguish your white-label products from a wide range of brand selections. Badges also convey scarcity and create a sense of urgency for the customer to complete their purchase. M&S achieves this by adding 'trending — X items sold in the last 48 hours' tags on top-selling items. You can also create urgency by adding limited-time offers with badges like "last chance" or "only for today". Badges are an effective way to promote products and influence consumer behavior in line with your business goals.
5. Product Comparisons.
Customers want to see products side-by-side and be able to compare them across various features to select the best-fitting product. Unfortunately, because many online retailers lack built-in capabilities for performing these comparisons, it's not always simple. Customers shopping online frequently open many tabs and switch between them to view various products. This creates friction in the customer's shopping journey, extending selection time and possibly creating confusion.
Allowing shoppers to easily compare products whenever they want can eliminate customer frustration and positively impact your conversion rates.
For each of its coffee makers, Keurig automatically populates a chart that compares it with two other products. Customers have the option to change these items using straightforward pull-down options. It helps them understand what they are getting and encourages upgrades to higher models if the initial features are insufficient.
Fitbit also offers a fairly simple product comparison tool. A 'compare' check box is available under every product on the product category page. Users can select up to 3 products to compare at a time and change the products via drop-down menus.
It is essential to format product comparisons in a simple and neat manner. Comparisons should not be used in place of or as a substitute for thorough product descriptions. They shouldn't contain extensive technical specifications and should be shorter to read than comprehensive product details. Even if you have to stack items, tables usually work best.
6. Shoppable Quizzes.
Shoppable quizzes combine customized marketing with social quizzes. Based on their responses, customers are directed to a personalized results page matching them with the most relevant recommendations. These quizzes provide curated products by asking users precisely what they need and want. As a result, customers don't have to perform as much independent browsing and sorting.
Sephora offers a large variety of quizzes and curated buying guides for their skincare and cosmetic products. There are many factors to consider, from acne scars to dry skin, that can be intimidating for clients to make online purchases. Instead of consulting a sales rep, as in-store, they can answer basic questions to get to the answer by themselves.
Shoppable quizzes offer product recommendations in a much more natural way while providing an engaging experience.
Home décor and furniture retailer Z Gallerie offered an online quiz to help customers identify their style and provided them with a tailored shopping experience. Z Gallerie matched customers to style personalities and suggested products based on these personalities. Users also had the option to explore item picks from adjacent style types. The quiz required participants to enter their names and email before they can view their results. Creating personalities with curated products meant that customers did not have to retake the quiz every time they needed guidance or suggestions. It was also tied to a sweepstake for extra motivation.
Final Thoughts
To stand out among the competition, it is critical but not sufficient to provide a well-functioning search engine. It is also important to curate experiences unique to each individual for maximum engagement and loyalty. Searchandising can have a huge impact on customer experience and competitive differentiation.
Searchandising strategies should be built around clear business goals. It is also important to find what works for your brand and only focus on implementing features that will create added value for your visitors whilst improving profitability.
Key Topics
Search
Product Discovery
Searchandising
On-Site Search
Ecommerce Search
Check out more of our related insights and news.
Get in touch.
Interested in our platform? Complete your information below to start the conversation.