How to Master the Art of Gift Guides This Season
December 09, 2022 • 7 minutes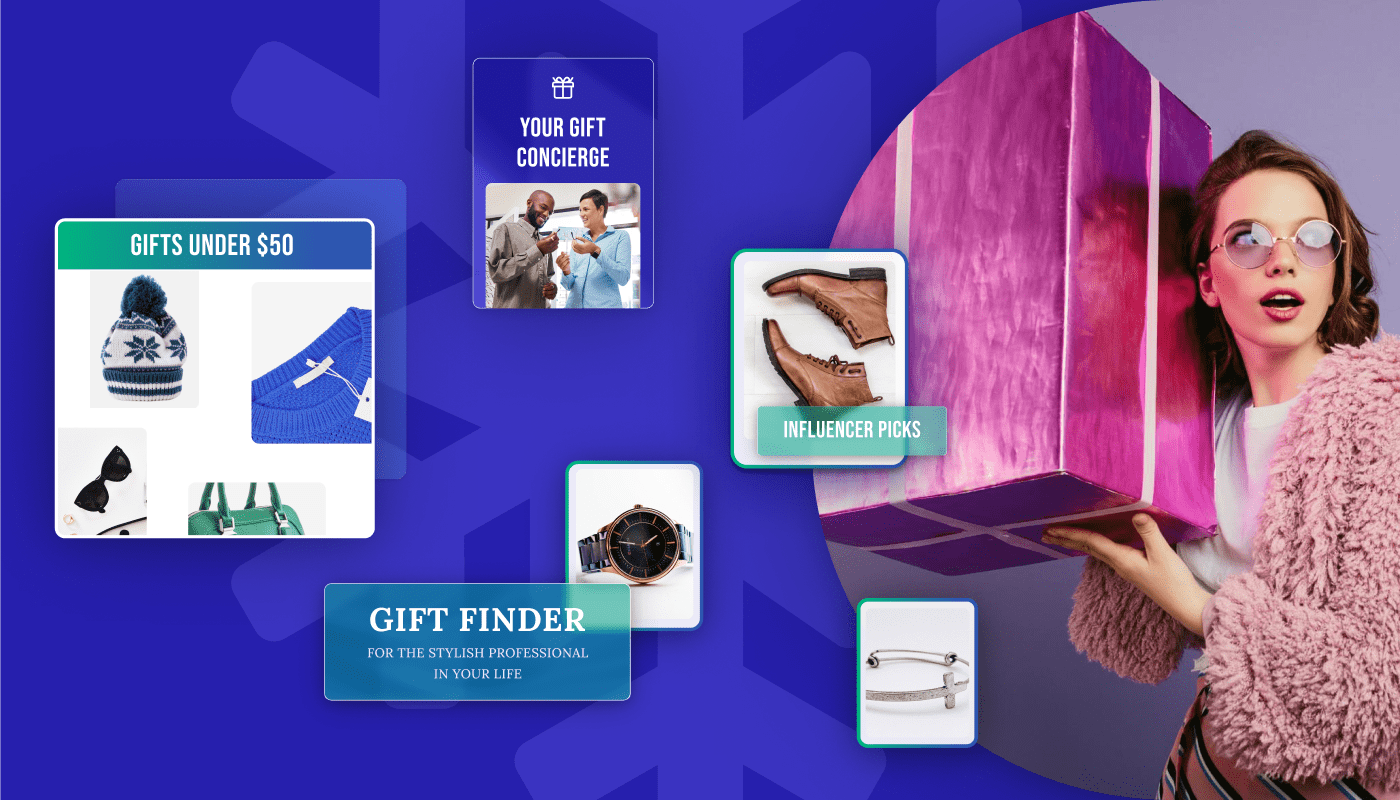 With many holidays and celebrations all occurring during this month, December is recognized by many as THE month for gift giving. When it comes to gifts, it's the thought that matters — well, until you receive a new toilet brush for Christmas. Most shoppers struggle to find the right gifts for different people, and time limits or budget constraints don't make it any easier.
For ecommerce businesses, this is the time to come to their rescue. From providing unique ideas to inspiring with powerful visuals, gift guides are a great starting point. Facilitating the gift-giving process will be highly appreciated by customers and will help them associate your brand with their happy moments. As a bonus, matching your customers with the perfect gift means fewer product returns. So, out with standard recommendations like gifts for her/him and in with personalized picks that delight your customers.
Here are 6 unique ideas that will help you go the extra mile this holiday season:
1. Ask Interesting Questions
Gift finder quizzes are becoming a standard feature in e-commerce, especially in the beauty and personal care category. But, they don't necessarily add much value if they're just asking customers to choose from pre-existing category search filters. Instead of asking basic facts like age, gender, and price range, it is better to come up with interesting questions that will help the customers' thinking process and engage them. Make sure you are not asking too many questions and making the quiz irritating rather than fun for your users. It is also valuable to fine-tune your results to provide personalized top picks instead of presenting a long list of bestsellers.
Within its Holiday Gift Guide picks, Nars incorporates the option to take a quiz to find the perfect gift for everyone on your holiday list. The quiz asks fun questions to better characterize the gift target around their must-haves, perfect party look, and what they'd be doing at the end of a party. Based on the answers, Nars offers 6 personalized top picks and the option to explore more items. Similarly, J.McLaughlin also incorporates creative copy around style, favorite holiday activity, and what they may have hinted at before. J.McLaughlin then creates a persona such as the 'Woman who has Everything' based on the answers and suggests 4 top picks for the persona. It's all about matching the holiday vibe at e.l.f. Cosmetics with different suggestions for those "serving full festive glam" and others that prefer staying "home watching holiday movies" among others.
2. Rule Things Out Early On
Understanding what your customers don't want can be as valuable as establishing what they are looking for. During the holiday season, buyers are bombarded with gift choices, making the gift-buying process more complex than it has to be. By the process of elimination, you can exclude things that are irrelevant and smooth out the shopping journey into a much more enjoyable and compact experience.
American spirits curator Caskers has created a holiday gift concierge service to help customers find the perfect gift. The quiz asks the participant to identify flavors the gift target doesn't like as well as their detailed flavor profile. Pandora also understands the importance of eliminating dislikes by starting its gift finder quiz with different style options that customers can rate with a thumbs down as well as a thumbs up. This way, shoppers can confidently browse through results carefully selected and tweaked to not include any flavors/items the gift receiver dislikes.
3. Inspire with Influencer Picks
Social proof continues to play an integral role in buyers' decision process. Based on McKinsey's research, 58% of customers agreed that social media affects their holiday season purchasing decisions. And, social influencers come in many forms, they can be celebrities, trusted experts in different niches, or creators. By expanding your curated shopping lists with a clever selection of influencers, you can further inspire and engage your customers.
As a solid example of this, Etsy launched a page titled The Etsy Edit within their website, where customers can browse, and shop items curated by influencers. The Etsy Edit aspires to help customers find items they like by providing access to products pre-selected by their favorite influencers. Based on the influencers selected, Etsy also suggests similar collections and suggested searches. Since the influencer's taste already matches the shopper, their selection is guaranteed to resonate with their search intent much more than any generalist picks.
4. Give Human Expert Advice
Even in this rapidly expanding digital age, providing a human touch remains critical. The holiday season can put a lot of pressure on customers to find the perfect gift, leaving them uncertain of their choices. Shoppers also often get stuck on a decision because reviews and other information sources online are not always adequate. It may be about the fit of a clothing item, or the color of an accessory — not being sure may be the only thing standing between your customers and a completed purchase. Other times, they may be craving that one-on-one interaction they would be receiving at a physical store.
Neiman Marcus goes the extra mile with their customers, providing the option to match them with a style advisor. For immediate advice requirements, Neiman Marcus also provides a chat that customers can use to quickly connect with a digital stylist for recommendations. It is providing the best of both worlds, the comfort of online shopping combined with the personal retail store support experience. This can be an additional service you provide, especially during holiday periods. Experts can support customers through various media such as video calling or messaging to effectively engage with them.
5. Offer Last-Minute Miracles
Leaving things to the very last minute is human nature. Especially during the holiday season, with all the preparation chaos, last-minute shoppers are usually desperate for quick assistance. Even long-term preppers may leave a few things to the last minute. And, this could be your chance to swoop in with your miracles to save the day.
The most important quality of a last-minute gift is that it is delivered on time. Your customers can easily become frustrated if they browse your site, add items to their cart, and only at the very end realize that they cannot be shipped in time. Kiehl's created a last-minute gift guide with 16 gift ideas that can save customers the stress of not finding the perfect gift. The guide includes options that serve different needs where each item can be personalized with a message and gift box. There are also flexible delivery alternatives such as pick up at a nearby store.
6. Round Up Low Budget Picks
Low-budget picks aren't necessarily only for the budget-conscious. The perfect gift may simply be a lavender candle if you're shopping for a cousin twice removed. Whether it's a last-minute addition to the shopping list, or for a distant relative/work colleague, low-cost items work wonders for many occasions. Make sure to highlight such items across the buyer journey to complement your customer's purchases. They can also be powerful assets for your cross-selling strategy.
As a well-executed example, Macy's gift finder includes 'under $15' and 'under $25' categories. They have rounded up a wide variety of lower-priced items for many different occasions, whilst also including filters such as category, occasion, and lifestyle for customers to further refine the results.
Final Thoughts
'Tis undeniably the season for coming together and exchanging gifts. Despite many unknowns and rising economic uncertainty, shoppers are in the market for inspiring ideas where 35% claimed they will be spending more compared to last year. According to GWI, gifts are the primary reason for Black Friday shopping in the US with a 31-point increase year over year.
From improving search to enriching ideation, brands should focus on multiple components to elevate the gift experience. Staying original, personal, and relevant is critical in providing inspiration for shoppers along the way.
Key Topics
Promotions
Gift Guides
Gift Finder
Recommendations
Gift Concierge
Cross-Selling Strategy
Check out more of our related insights and news.
Get in touch.
Interested in our platform? Complete your information below to start the conversation.