Just Like That: Your Best-Selling Sweater is a Carrot
January 14, 2022 • 7 minutes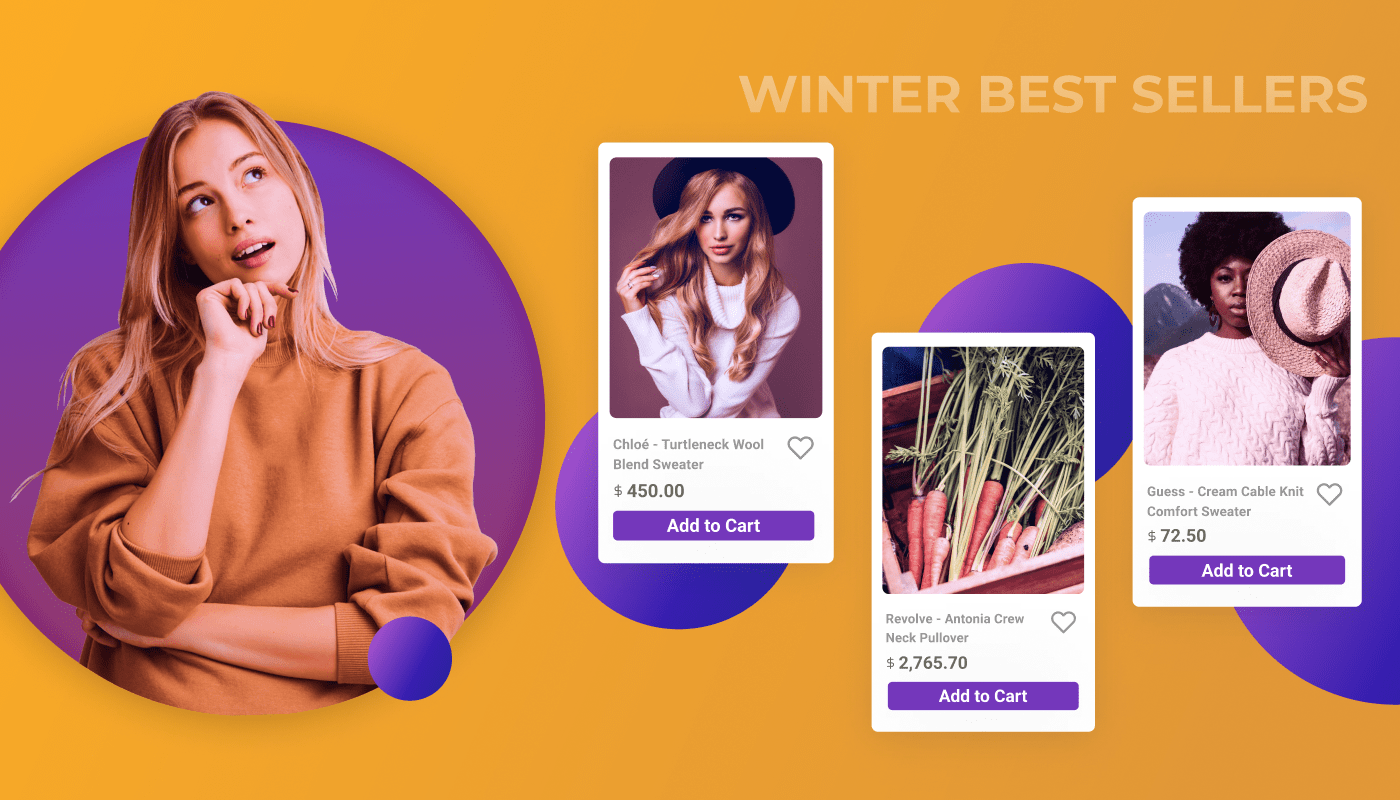 The namesake for Oliver Sacks' 1985 book, The Man Who Mistook His Wife for a Hat, tells the story of a patient unable to recognize faces and objects. He reaches to get his hat, but grabs his wife's head instead convinced that it is his hat.
Cognitive issues, both peculiar and common, usually occur when some part of the brain malfunctions. And ecommerce personalization engines are no exception. Sometimes they get it very wrong leading to bold claims like Gartner famously predicting "80% of marketers will abandon personalization efforts by 2025".
We ran our own little white hat experiment, to see how vulnerable especially the frontend-integrated engines are. As it turns out, deceiving recommendation algorithms to show a $3,000 carrot is much easier than you think.
The magic of a single line of code.
In 2021, 67% of ecommerce leaders have invested more in personalization compared to the previous year. In 2020, that value was 78%. The accelerated adoption is partly the work of add-on engines promising very quick DIY implementations. With almost no development, going live is as easy as it gets. In-house teams are freed from database and API integrations as well as customer and data validation. They also don't need to operate and maintain yet another set of modules.
It is a dream come true — particularly for retailers with limited digital maturity or those battling monolithic legacy technologies. But it might come at a price. Without proper integration or governance, you may be risking exposure and leaving money on the table.
So, here is a three-part checklist to benchmark your personalization capabilities:
1. Too trusting of the outside world.
Solutions that integrate with a single line of code usually operate outside your authentication and authorization flows. That makes them more susceptible to external influence and almost impossible to align with your internal reporting.
To test this theory, we selected a small sample of ecommerce websites using frontend-based recommendation solutions. The sample was a mixture of sizeable marketplaces and brand stores with at least a few million visitors. A review of their API calls showed that the engines received product and price information directly from frontend traffic, and tracked customers/visitors via unencrypted IDs.
As a result, it was possible to generate made-up traffic with a few lines of code and turn recommendations into random items with a fictitious name, price, image, and a broken link.
Accepting any data as given is a major flaw since intelligent solutions only work with accurate inputs. If manipulated at a massive scale, this can have serious consequences. Labeled as data poisoning, bad actors can corrupt AI/ML models with false information to bypass fraud detection or divert offer links to their sites. And, you may not be immune to it if you have the following symptoms:
Losing control. Even with good intentions, your personalization engine may not be operating the way you planned. Irrelevant offers and inexplicable campaign results may be telltale signs with direct bottom-line impact. In a recent survey, 39% of online retailers said they "lost up to $400K annually due to some browser extensions giving unintended discounts".
Losing track. Separate sources of information also prevent reconciliation with your internal reporting. Marketers have come to expect deviations between their Google Analytics and internal traffic figures. But, if you are spending more time adjusting than using your data, it might be time to revisit your 3rd party intelligence.
2. Risking or deprived of crucial data.
According to McKinsey research, 71% of consumers now expect companies to deliver personalized interactions. And 76% get frustrated when it doesn't happen. With global players setting sky-high benchmarks, hyper-personalization has come to be the norm over traditional micro-targeting practices. Meanwhile, increasing privacy restrictions and diminishing returns from too much attention continue to make first-party and contextual data all the more valuable.
The dilemma is: If you share a lot with the wrong 3rd party, you are more open to a data breach. If you share very little, your personalization is just 'meh'.
Online retailers typically stand closer to the latter as a safe alternative. The ones we reviewed disclose very basic information such as location and device on top of the tracked product and visit behavior. Acting in real-time is a powerful capability. But limited inputs can turn the smartest recommendation into your basic sort algorithm. That's why, in many instances, the recommendation banner at the top of a page shows exactly the same products listed right below.
From product profitability to customer segments, your rich internal data can help provide a better context and relevance. But you need a secure platform to put them to use without any added risk. Take a hard look at your data strategy to make sure you are not led into one of the following traps:
Uninspiring offers. If your customers are not wowed by their experience, from conversion rates to cart abandonment, your metrics will prove it. Comments around ignored previous interactions and not being recognized may accumulate through different feedback channels. Despite immediate gains, lack of a holistic perspective may be reducing your loyalty in the long run.
Losing customer trust. Privacy and security violations take on many forms with identity and credit card theft being the most severe. Though it happens to the best of them like eBay and Target, it can have a huge impact on both finances and reputation. It is worth checking for vulnerabilities especially if your customizations span the higher-risk login and checkout stages.
3. Myopic to other channels & KPIs.
As discussed in our headless commerce article, pushing all customizations to the frontend is both risky and inefficient. Yet, a global study found that only 24% of businesses are investing in omnichannel personalization with the rest citing "departmental silos and legacy infrastructures" as key barriers.
Cross-channel experiences allow you to tell a cohesive and interactive story. A recommended product gets enriched with related offers across touchpoints based on combined learnings. With a channel-specific implementation, however, you take into account only a portion of the total history — most likely the current visit.
Not optimizing for the right metrics as well as a faulty attribution model may also be hindering your personalization ROI.
Standard point solutions are typically designed to maximize a single target such as revenue. And revenue sharing models are good on paper. But they don't necessarily factor in profitability or let you customize based on segment or product priorities. Many also claim 100% conversion attribution for every click-through which may overestimate their contribution and undermine other marketing efforts. With such a black-box approach, your recommendations are bound to focus on overall best-sellers rather than unique discoveries limiting your product range. There may be a better alternative if you're suffering from the following:
Siloed experiences. Isolated implementations prevent know-how as well as data sharing across channels. Due to organizational divides, channel managers may be oblivious to what works and what doesn't on other touchpoints. Without the full picture, customer relationships are reduced to one-off transactions discouraging repeat engagement.
Insufficient or unknown ROI. Companies that are doing personalization right, can expect 40% more revenue from it "than their slower-moving counterparts". Effective testing and reporting are critical in uncovering why certain investments are not justified. From goal misalignment to over-attribution, many strategic factors may yield subpar results.
Final Thoughts
Effective personalization is a powerhouse and an increasing necessity. Point solutions provide a quick uplift, but they may be hurting your performance through a lack of data, consistency, and security. The winning strategy comes from uniting your business and technology stack to work towards dynamic common goals.
Connect all parts of your brain.
You need comprehensive reliable data and central intelligence to know when a carrot is a carrot. That's why our vision for rierino has always been an intelligent orchestrator effortlessly managing all the moving parts.
Lead with better strategy and governance.
Personalization is not a frontend technology, but an end-to-end business problem. For maximum impact, clearly define which way to go, and have the necessary tools in place to track progress and detect any divergence.
Key Topics
Personalization
Data Security
Omnichannel
ROI Optimization
First-Party Data
Data Governance
Check out more of our related insights and news.
Get in touch.
Interested in our platform? Complete your information below to start the conversation.